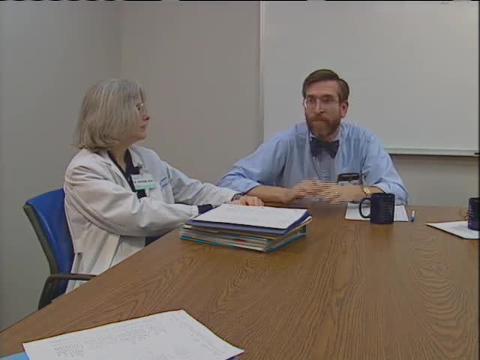 Rent this film for $4.99
Caring at the End of Life is available on a single DVD with its two related study films, for only $249: order here.
Central to this provocative documentary is the case of a comatose patient, whose family and healthcare team are in conflict over how long to continue with the treatments which are keeping him alive. In making decisions about his care, they confront disturbing ethical questions about patient autonomy vs. the needs of the family, about who is in a position to judge what another person would want, about the role and impact of faith, and about the certainty or fallibility of medical judgement. This moving film focuses on the key roles of nursing staff in patient care and communication. It profiles six severely ill patients who agreed to be a part of the Robert Wood Johnson Foundation's SUPPORT Study on end-of-life care and decision making.
Their stories offer no easy answers, but raise many of the key issues faced by patients and those who care for them, including the role of technology, deciding when to use or withdraw life-sustaining treatments, the importance of effective pain management, and the impact of patients' culture and community on care decisions. This film was partially supported by the Robert Wood Johnson Foundation.
Related Study Films Now Available...
To purchase these two study films, together with Caring at the End of Life, for only $249, click here: to visit the page for the special series offer.
Stanley: This disturbing case study raises complex issues about medical prognosis and religious belief in end-of-life decision-making, and is particularly relevant to discussions about the concept of futility. Stanley is excerpted from the film Caring at the End of Life. (15 Minutes, $99)
Discussing Advance Directives: A nursing team meet with the physician who is their SUPPORT Project principle investigator to discuss the difficulties they encounter in working with patients on advance directives. This video is expanded from a sequence seen in Caring at the End of Life. (15 Minutes, $89)
"A thought-provoking, controversial video that really makes the healthcare provider sit up and take notice. Real-life patients were filmed with staff and family members to illustrate the complex realities of end-of-life care and decision making. Should be required viewing by healthcare workers, administrators, and students." —American Journal of Hospice & Palliative Medicine

"Sensitive and provocative. Does something that no other video on the subject has done: rather than blanket the presentation with reassurance that may falsely lead viewers to believe that there are easy answers to concerns at the end of life, this video lays out the message that uncertainty is part of the experience. Sometimes pain can be relieved, sometimes not. Sometimes medical personnel are right that a coma is irreversible, sometimes not. Caring at the End of Life has a place in medical ethics and nursing curricula, but the most important venue for this video is as part of a carefully facilitated conversation in the community at large." —Deni Elliott, University Professor of Ethics, University of Montana

"Highly recommended. This is another quality Fanlight Productions item and is appropriate for any collection with this topic focus." —MC Journal

"Looks respectfully at the roles of nursing staff and others as they help people who are dying. A good resource for college students and others who are working with dying patients." —Science, Books & Films

"Recommended for medical libraries and medical training collections." —Video Librarian

"Demonstrates the importance of collaborative practice in advance care planning and superbly highlights the critical role nurses can play in achieving better end-of-life outcomes. Offers the opportunity to eavesdrop on skilled communication (verbal and nonverbal) between caregivers, patients, and families when tough end-of-life decisions are being made." —Carol Taylor, CSFN, RN, PhD, Georgetown University Center for Clinical Bioethics

"Achtenberg and Mitchell have captured the complexity of end-of-life decision making. Their documentary footage of real cases illustrates the importance of patient and family involvement and suggests key questions to ask of one's clinicians. Health care professionals may see themselves and their colleagues in new ways that will, hopefully, encourage self-scrutiny and behavior change." —Mildred Z. Solomon, EdD, Center for Applied Ethics & Professional Practice

"Focuses on the importance of emotional caring in the complex and increasingly technological care of seriously ill patients. Many of the situations illustrate the effects of changing situations and medical uncertainties, the burden of making care decisions for both the family and the caregivers, and the importance of communication. These situations will ring true to practicing clinicians and offer an opportunity for stimulating discussions among students, clinicians, and all involved in health care." —Elizabeth F. Hiltunen, MS, RN, CS
CINE Golden Eagle
Silver Award, Houston International Film Festival
Honorable Mention, American Academy of Nursing
Excellence, American Medical Writers Association
Columbus International Film & Video Festival
American Society on Aging