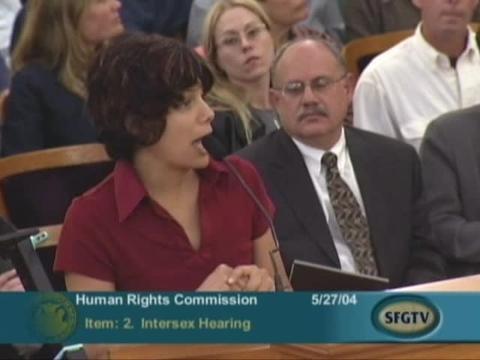 Rent this film for $4.99
Every parent-to-be hopes for a "perfect" baby, but what does that actually mean? Every newborn is different, but some of those differences are scarier to parents than others. Each year an estimated one in two thousand babies are born with anatomy that doesn't clearly mark them as either male or female — with what is known as an intersex condition. It's a situation that's hard to talk about; it challenges our preconceptions about how things are "supposed" to be.
This provocative documentary demystifies the issue of sexual difference. At a time when five babies a day in the United States are having "gender reassignment" surgery, it argues that there is little evidence that such surgery is beneficial to the child. The program profiles several people born with ambiguous sexual anatomy, who have managed to deal with some very difficult family and social issues, but today are living "ordinary" and productive lives. It also includes a young mother who is matter-of-factly creating the conditions for her intersex baby to do the same.
Interweaving their stories with educational films from the 1950's, One in 2000 invites us to take a serious second look at how the media have dealt with sexual "normality." It will be an invaluable tool for educating and sensitizing parents, young people — and many in the medical community as well.
"One in 2000 demonstrates that the umbrella term "intersex" covers a huge range of bodies and experiences. It shows that truly effective care for intersex people means recognizing that there are many paths to health and happiness, and that the real experts are the people themselves. The program should be required viewing for every doctor, advocate, and academic dealing with this issue."—Thea Hillman, Intersex Advocate; Author of For Lack of a Better Word"; Former Board Chair, Intersex Society of North America
Cine Golden Eagle Award
Director's Citation, Honorable Mention, Black Maria Film and Video Festival
Bronze Award, Columbus International Film/Video Festival
Platinum Remi Award, WORLDFEST
Programmer's Choice Award, Cinematexas
Best Documentary, University Film & Video Association
Nextframe Traveling International Film Festival
Hot Springs Documentary Film Festival
Berkeley Video & Film Festival
Mill Valley Film Festival
Big Muddy Film Festival
Chicago Gay/Lesbian Film Festival
Silver Award, Patient Education, National Health Information Awards
Western Psychological Association
National Women's Studies Assocition,
2008 Film/Video Series
American Psychological Association